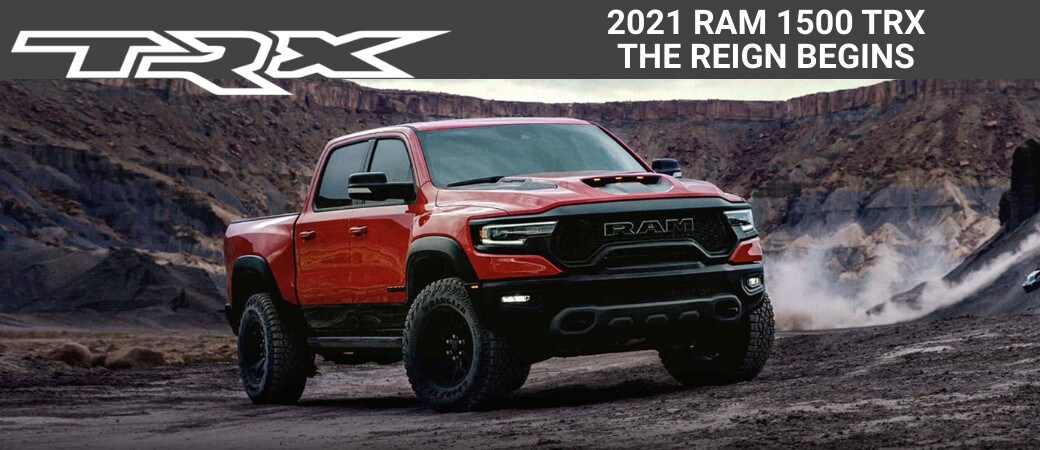 Harris Dodge is excited for the arrival of the brand new 2021 Ram 1500 TRX!

From the 6.2L Supercharged Hemi to the first Ram truck to be equipped with Launch Control. Bold Features such as a menacing grille, a functional air scoop with a flow-through RAM badge ensure unobstructed air flow to the engine and factory 35-inch Goodyear Wrangler Territory All Terrain tires.

THE HEART OF A LEGEND, TRANSPLANTED
The 2021 Ram 1500 TRX has arrived, replacing all preconceived notions of what a pickup truck can be. The TRX is the most powerful street-legal half-ton pickup ever produced.
But why on earth would you only drive it on the street?
BEHIND THE BADGE

To lead, you must lead from within. Go behind the Badge with Chief Designer, Ryan Nagode, to see how his team upon the critically-acclaimed Ran 1500 interior to deliver performance-inspired technology and materials exclusively for TRX.

Don't blink. The 2021 Ram 1500 TRX charges forward. Add your name to the list and be among the first to experience it. Taking orders now!

Sign Up For More Information